The nation stands tall and proud today because of the historic achievement of our beloved Eliud Kipchoge who stretched the human capacity to run marathons.
To achieve something that no human being has done before is the stuff of legends. Kenyans will write songs, poems and books about this man.
We are in the year 2019 and humans have been around for we don't know how long. None of those humans ever done this. And you go out there and pull it off with a big smile on your face and put even a bigger smile on the face of  humanity as we live now, that is something. I will take that any day of the week. And the nation will too.
Obviously we need a serious documentary on our athletes and we have an abundance of wealth there starting with the first Kipchoge we knew.
That is Kipchoge Keino the godfather of one of Kenya's greatest assets, our athletes who dominate the world of professional racing.
Kipchoge Keino and Naftali Temu at that time didn't even have trainers.
They just ran in the bushes and then go out there and shock the world. They opened so many doors for our track and field athletes in the country who are today world champions.
And they put Kenya in the global map triumphantly. The new champions are taking it a step further. This can only be good. Can't it?
If anybody can make that kind of documentary working with the athletes and also to benefit them you will have 30 million viewers instantly and that will just be the beginning. The end could be endless. Of course.
Kip is going to be a marketing magnet like no other. This is priceless stuff. Running shoes companies and everything else can be factored here including healthy drinks.
I am personally going to persuade him to endorse my "Nyuka Mar Bel Special"  (NBS) brand. Good uji from authentic original foods and products.
My nephew in Bondo has become a serious sorghum producer because of the new market in Kisumu.
The man tells me sorghum uji is terrific if you make it with some milk. But his kids are kind of rebelling. The kids want their bread with tea. In fact they want the bread buttered.
So may be Kip could help educate these young folks about healthy food. These young brats need to be put on a healthy diet and here comes Kip sipping sorghum uji after a blistering race. That will do it. And then we get Obiri to do the same and we are on our way.
And then Brigid Kosgei comes in with the Women world record. Two days. Two World records.  One country. I have no words.
https://www.the-star.co.ke/news/2019-10-13-brigid-kosgei-smashes-16-year-old-womens-marathon-record/
And here is one, two shot by Kenyan women Obiri and Chelimo in Doha in the same week. That is gold and silver for Kenya. At least they didn't take all the medals in this race like they do pretty often. They let their Ethiopian sister take the bronze. Talk about kindness. We are a nation of very kind people including our athletes.
We keep winning. How about the Nobel Peace Price.
Here we go again.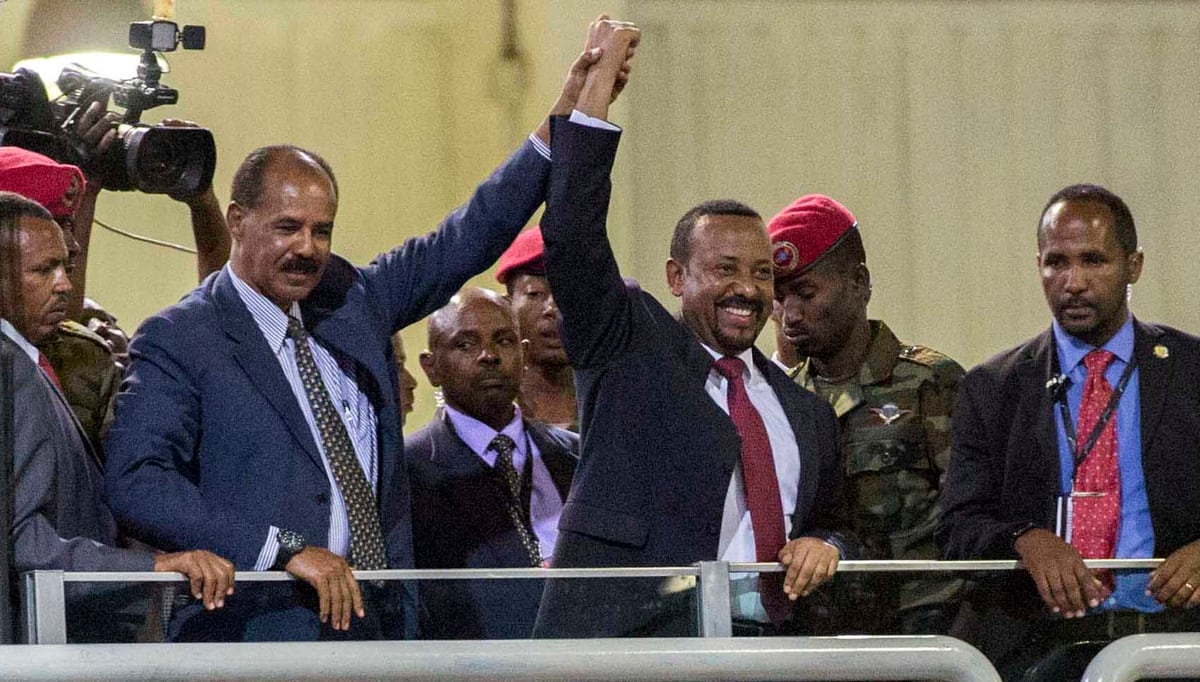 https://www.navytimes.com/news/your-navy/2019/10/12/the-end-of-this-war-led-to-the-nobel-prize-for-peace/
Never mind that every matatu will be named after the 1.59 man and you know how creative those chaps are. Oh they are going to do things with this. May be Kip should copyright his name maramoja.
Sometimes I tell people out here that in Kenya creativity is our first profession.
I remember arguing with my Eritrean friends in a football match a few years back when Kenya was having some problems with Eritrea.
I told them Eritrea is a country of 3 million people and if they cause trouble we can walk there and slap everybody to sleep. They told me, Adongo in Eritrea war is our first profession don't mess around.
In Kenya if you are not creative you are dead particularly the gazillion poor folks in the republic.
So we need to help Mr. Eliud Kipchoge not to be robbed. Even some computer companies may need his speed and strength to market their products. Kip should hire someone to approach that angle of marketing. He is money right now.
That is how the world works. Even his image except for the ones he allows to be used to market his country and promote sports he should market. You wouldn't take Kobe Bryant pictures dunking the basketball to market anything unless you pay Kobe.
They are still paying Michael Jordan for his image. A guy like Kip may appeal to a different market demographic particularly the twenty something year old and the middle aged and older folks who fancy themselves as athletic even if that means just walking a few blocks now and then.
And Kip's appeal because of the nature of his sport will have a global appeal. That is money.   You don't mess with that.
Right now Kip has just added to the fortune of INEOS who organised this event. Thank you very much INEOS.
The CEO of INEOS Jim Ratcliffe one of the richest people in the world just added a huge asset to their marketing.
That is Eliud Kipchoge and even the magical effect of Kenyan athletes dominating the world and here is someone who cares about it and is doing something.
We applaud that.
What does Uliud Kipchoge the star of this world spectacular show get from all these in his pocket? That is important.
Everybody has a pocket big and small. But what does Kip get?
This kind of stuff don't just happen by luck. You have to work and sacrifice everything to make this kind of achievement.
Thanks Kip for putting 1.59 world record on the map of our Jamhuri forever. Knowing our nation we could push this clock even further back. That is next. We keep coming. Don't we!
https://www.the-star.co.ke/news/2019-10-12-how-eliud-kipchoge-completed-ineos-challenge-in-under-2-hours/